The Ultimate Coaching Mastery Toolkit
Uplevel your client coaching sessions and increase your revenue with our FIVE flexible and easy-to-follow frameworks, templates and rituals.
6-Figure Business Calculator
Plug n' Play Calculator Template
A done-for-you 'paid-traffic calculator' with coaching industry averages built in from our unique access to so many coaching businesses, so you can see what it would take to achieve the results you desire!
Plug in your target revenue goal and adjust the values to see just how profitable your business could be
Determine how many leads you need to generate and how much you need to charge for your coaching package in order to hit six-figures in your business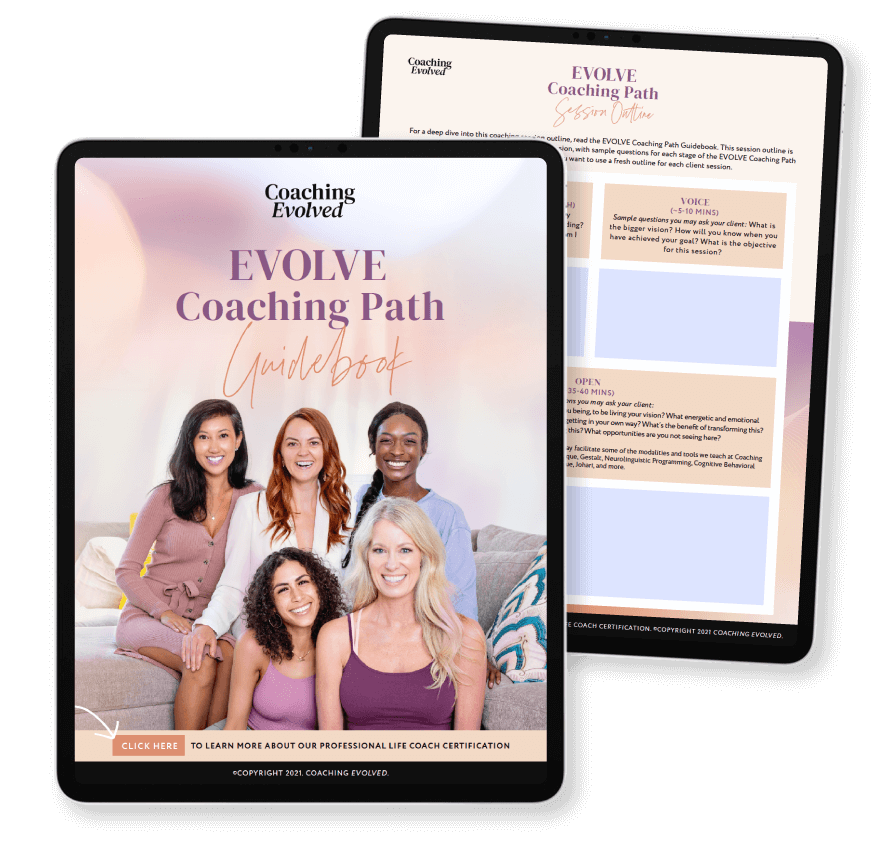 Coaching Session Guide + Planner
A step-by-step guide to the proven EVOLVE Coaching Path framework, that you can use to structure your client sessions
Powerful coaching questions to ask at each stage of the EVOLVE Coaching Path
Know exactly where to journey with clients in sessions for maximum results
Guidance on how session structure supports safety, creativity and deep transformation
Simple Coaching Agreement
A done-for-you ethical Coaching Agreement in line with ICF Standards
*Simply copy and edit to suit your own business needs
Covers "Outline of Work and Expectations," "Deliverables," and "Terms and Conditions" for coaching client to agree to and sign
*This is not intended to be your final agreement, we invite you to review it with your own lawyer to tailor to your specific business. We do not take any legal liability.
A 1-page questionnaire for your client to complete 24 hours before each session
Determine your client's progress and setbacks since their last session
Establish the main areas of focus for the upcoming session
Receive real-time feedback on your coaching and your client's experience
A 7-minute guided breathing, shaking, and visualization experience to energetically prepare for each client session
Consciously suspend all judgment and your own agenda before the session
Clear your energetic channel and deeply ground yourself in presence
Serve as an open vessel of communication and support for your client
Hear what others are saying
about these powerful
coaching resources…
When I came across Coaching Evolved, it was a whole body, yes. I still use the session guide, every single session to organize my sessions. Those frameworks really gave me the confidence to take people into all the different facets and step into really transformational spaces.
– MICHELLE K.
As a coach, the structures and the framework were incredibly powerful tools. They empowered me and equipped me to actually know what I was doing and run a session and feel confident. Confidence is huge in a new endeavour. Those pieces really were just like the ground under my feet of safety.
– CYNTHIA M.
This beautifully guided pre-session ritual was the PERFECT centering and clearing practice! It allowed me to come into full presence and release judgment in order to show up as a clear and compassionate vessel for my client.
- LIDIANN L.
The coaching agreement and clients pack questionnaires were priceless resources for me as a new coach. It allowed me to add structure and a solid foundation to my on boarding process in no time. This was very well received by my clientele and added another layer to the safe space I'm holding them into during our transformation time together. Which in my opinion is key to successful coaching.
- Valérie N.
I think all of the templates provided set any new coach up for success. It's one thing to learn the skills to be a masterful coach...it's quite another to learn the business building skills necessary to take all that coaching mastery to the masses! Coaching Evolved provides the necessary tools and templates to get your coaching business started with ease and confidence, which is a HUGE added benefit that makes this program top-notch and elevated above the rest!
- Ashley
What I find particularly valuable are the numerous documents and papers that I actually use, slightly modified, 1:1 in my coaching sessions. This material has made it very easy for me to get started with coaching. The materials are very clear and structured, just the right thing for me to fully engage with my clients. With every single document I feel the love for detail that is in this coaching program. Thank you very much for this.
- Heike
Ready to Expand Your Professional Coaching Tool Kit and Walk the
This Coaching Mastery Bundle will equip you with templates and tools to position your coaching business and sessions as professional, structured, and safe containers to explore a myriad of client issues and goals while growing a financially thriving business.