One of the gifts of the coaching profession is that the paths it presents, and opportunities it offers, are plentiful and diverse.
As Coaches and Teachers who have journeyed with coaching collectively for decades, we've never seen two Beings run exactly the same businesses, or provide exactly the same offerings.
Why?
Because each Soul is so beautifully and uniquely different and…
Many people who are new to the coaching space have a tendency to think that a career as a Coach is limited to 1:1 client coaching…
Today we want to share some other opportunities that exist when you claim your calling as a Coach…
So you can expand your mind and get curious about the perfect suite of business offerings for you.
And while this is definitely the path that many Coaches choose to walk, it's not the only path.
Keep in mind – your business, your rules. If you choose to only serve in one way, then that's perfectly okay. Choose the right path for you.
---
Workshop Facilitator
Workshops (whether delivered as one off, or a short series) are a great way to serve via a one:many model, and have a broader impact than one might as a Coach who only provides 1:1 support.
Depending on your audience and the structure and pricing of your workshop/s, they can be quite profitable.
They can also be offered for free if this is part of your business structure and client journey (see our Evolve LIVE Journeys below).
Workshops can be an effective way to give your dream clients a 'taste' of how you can support them to expand and evolve, and pique their interest in your other offerings – often your more in-depth, higher touch and higher price point offerings.
Here at Coaching Evolved, we offer free Evolve LIVE Journey workshops. These are free experiences that we offer to our community of aspiring and practicing Coaches, Leaders, Healers and Teachers to support their own evolution, and learn new skills that they can use in their own coaching practice.
As a helpful workshop example (and of course, if you're interested in attending yourself!) you can learn more about our Evolve LIVE Journeys here.
---
Group Coach
Group programs are popular among Coaches, and offer a way of taking clients on a deeper journey with transformation and evolution, than workshops typically do.
Like workshops, they are appealing to coaches who feel called to serve via a one:many model.
Typically, they are high touch and high price point, and depending on their focus, can require masterful skills to create safety, set boundaries and take students on a transformational journey over time.
Group programs are typically run over a number of weeks or months, and take people on an in-depth exploration of a chosen topic.
An example of a group program that we run here at Coaching Evolved is our Professional Coach Certification – our ICF-Accredited, multi-modality, 6-month group training program for aspiring Coaches.
See our example of a group coaching program, and learn more about our certification here.
---

Trainer
Another popular option among coaches is the path of training.
In fact, Coaching Evolved Program Director and Master Coach Trainer, Lorraine Hamilton, started her coaching journey as a trainer – teaching communication skill development to the staff at her children's kindergarten.
Her training sessions were such a great success that they went from being offered at one center, to being offered regionally (!!!)…
PLUS she was charging 4 figures for a value-packed workshop that spanned just a few hours.
Trainers are particularly sought after in corporate environments…
AND the great news is that they usually have the need and the resources to warrant and support a financial investment in a trainer.
For those who are drawn to this style of service, they can be a rewarding and profitable path.
---
Public Speaker
If you love the idea of sharing in front of an audience then public speaking may well be an enriching path to explore!
Public speaking offers a great opportunity to build a connection with and get seen by your dream clients (positioned as an expert nonetheless!)
While it can take time to be amply financially rewarded as a public speaker, for those who have established themselves as a masterful Coach in their industry, these opportunities can be very profitable.
---
Resource Creator
A great way to share your expertise, and invite a passive income stream into your business, is to create resources – like helpful PDF's, digital downloads, self paced courses and books.
The benefits of these types of offerings is that they offer a low cost (sometimes even free, depending on your business strategy) opportunity for your dream clients…
To find you, connect with your work and learn about your more intimate offerings
To reap the benefits of your magic and your work, even if they aren't yet ready/able to invest in your higher price point offerings.
---
One of the most popular resources we share here at Coaching Evolved
is our free Coaching Session Guidebook and Planner, a resource that supports Coaches to guide their clients through deep transformations in their 1:1 sessions AND grow a thriving, prosperous coaching business.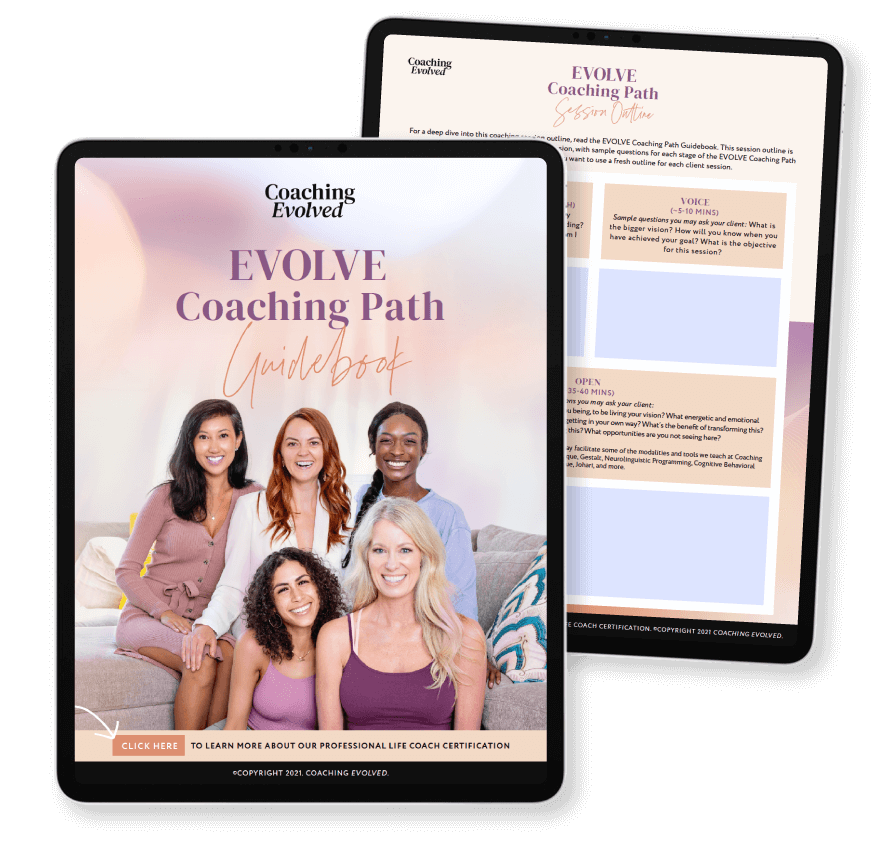 Want to see just how potent this resource can be for your coaching business?
---
As you can see, there are many opportunities available to Coaches who want to diversify their offerings and income.
It truly is possible to run the coaching business of your wildest dreams and serve in a way that is in alignment with, and harnesses the magic of, your unique disposition, interests and goals.
We see you and are cheering you on from the sidelines, dear one…
We can't wait to see you shine even more of your genius and brilliance out into the world!